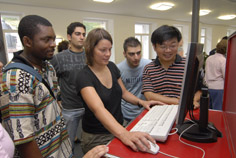 Re-enrolment for the summer semester 2020 has begun.
The re-enrolment period is from December 1, 2019 - January 31, 2020.
For this purpose, it would be best to use the automatic debit procedure via your eCampus in the self-service function.

If you would not like to do so, you may alternatively transfer the amount.
For bank transfers, please use the following account information:

Georg-August-Universität, The President
IBAN: DE 57 2505 0000 0199 9537 04
BIC bzw. SWIFT: NOLADE2H
Details of payment: SoSe 2020, last name, first name, enrolment number.